Dane Cummings was driving his garbage truck on his normal route in Magalia, California, on Thursday morning when a mandatory evacuation was issued for the area due to the rapidly spreading Camp Fire.
Cummings decided to go check on the elderly residents, and that's when he saw Margaret Newsum, a 93-year-old whose home he has serviced for eight years, out on her front lawn.
"I decided that we were gonna get her out of there," Cummings told TODAY. "I don't know that much about fires, but I knew if that fire came over that hill they were in trouble."
Cummings, a waste management driver, knew that the 93-year-old typically had a caretaker staying with her. When he approached her, Newsum said the caretaker had gone home that morning.
That's when Cummings decided he was going to get her to safety, as NBC News affiliate KCCI originally reported.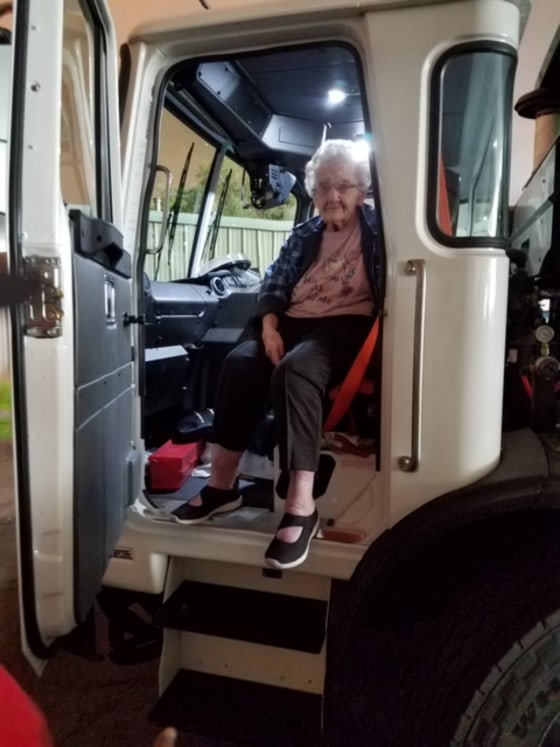 Newsum had made it to her lawn despite having broken her back eight months ago during a fall — she was determined to get the attention of someone that could help her evacuate.
"I am positive, and I knew I was going to get out of there," Newsum told TODAY. "I didn't know how, and here I got an angel driving this great big, green monster."
Magalia is a suburb of Paradise, California, and due to the flames, there was only one route out of the town. It took Cummings five hours to drive them to safety.
He insisted — he wasn't pushy but he said, 'You're not staying here — you're going and I'm taking you,'" said Newsum. "We've been real friends for eight years, and he wouldn't try to do anything that wasn't in my best interest."
Newsum is now staying with Cummings' childhood best friend, Brian Harrison, who is a mechanic at North Valley Waste Management — where Cummings also works. Newsum doesn't have any family in the area. When Cummings reached out to Harrison, he didn't hesitate to help.
"He called me a couple times and said, 'You're not gonna believe this, but I've got a 93-year-old woman in my truck," Harrison told TODAY. "We decided she was coming home — we weren't going to take her to an evacuation center. She's actually brought some good light into our household."
Harrison, who has four children, says the entire family has loved having Newsum stay with them. They've learned about her life, and Harrison's kids have even been helping take care of Newsum.
"I have felt so welcome in this house," said Newsum. "Things may not work in the way you want, but you have to have faith, and get good friends. They're such wonderful people.